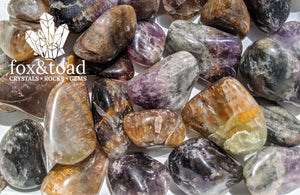 Amethyst, Super Seven Tumbled Stones
Super Seven Amethyst
Also known as Sacred Seven and Melody's Stone.
Contain Amethyst, Clear Quartz. Smoky Quartz, Cacoxenite, Rutile, Geothite and Lepidocrocite.
Powerful stone for healing mind and spirit.
Well suited to aligning and clearing all seven Chakras. 
Super Seven Amethysts are also referred to as Sacred Seven or Melody's Stone. The matrix of these powerful stones consists of seven naturally occuring minerals: Amethyst, Quartz, Smoky Quartz, Cacoxenite, Rutile, Goethite and Lepidocrocite. The presence of these seven minerals makes this one of the most popular crystals in the metaphysical realm.
Super Seven Amethysts interact well with many other stones and vibrate alongside stones within all chakras — especially those that match its high energy. 
Combining a Super Seven crystal with Moldavite, Herkimer Diamond, Celestite, Kyanite and Himalayan Quartz will help level-up your spiritual growth. 
All tumbled stones are priced and sold individually, unless otherwise noted.
Due to the unique qualities in each stone, sizes can vary from 0.75 inches to 1.75 inches per stone.