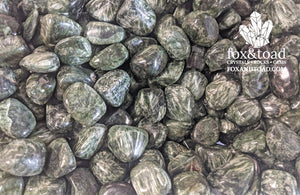 Seraphinite Tumbled Stones
Regular price $10.00 Sale
Seraphinite is a member of the Chlorite group — which is how this marvelous stone achieves its deep green coloring.
Seraphinite is named after the biblical seraphs or seraphim angels — mostly because of the feathery patterns seen within the stones chatoyancy. The best specimens show strong feathery plumage, with shorter down-like feathers growing into longer "flight feathers."
At fox&toad, we hand-pick every Seraphinite tumbled stone we sell for optimum "feathering."
Seraphinite one comes from a few select — and remote — mines in Russia. The stones appear deep under the surface, which make obtaining them difficult, and expensive, for most independent miners.
You will receive one stone, which has a size/shape that may vary due to each stone being unique in color and form. Most stones range between 0.6"-1.2"