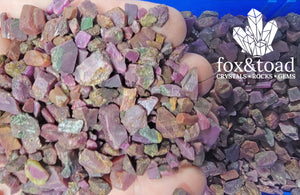 Ruby Gemstone Chips
These all-natural Burmese Ruby Gemstone Chips from India are sure to be a top addition to your product line or crafting project.
These unpolished gemstones are pure Ruby, with no fillers or matrix stones to take away from their brilliant red colors. As you'd expect from authentic Burmese Ruby, these stones glow a firery red under blacklighting.
You won't regret adding these rare beauties to your life.
Natural Ruby gemstone chips are offered in various quantities, with price breaks as you purchase more weight.
1/10 pound (46 grams)
1/4 pound (114 grams)

1/2 pound (227 grams)
3/4 pound (341 grams)
1 pound (453.5 grams)
Message us if you need a quantity different than what is available and we will do our best to accommodate you.