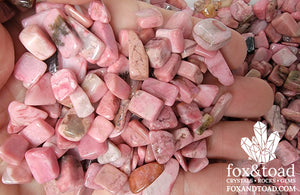 Rhodonite Gemstone Chips
This isn't a handful of bubblegum! No, these are some the gemmiest, brightest pink Rhodonite chips that you can find.
This quality came from a small pocket that is no longer around. Most modern Rhodonite is bogged down with black matrix that eats away at the beautiful pinks exhibited through the best Rhodonite gemstone chips.
Please note that these polished chip stones are slightly larger than the average chip in our inventory, with most pieces ranging between 6mm and 8mm.
These chips are offered in various quantities, with price breaks as you purchase more weight.
1/10 pound (46 grams)
1/4 pound (114 grams)

1/2 pound (227 grams)
3/4 pound (341 grams)
1 pound (453.5 grams)
Message us if you need a quantity different than what is available and we will do our best to accommodate you.