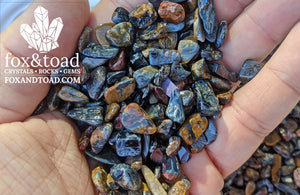 Pietersite Gemstone Chips
This African gemstone is becoming increasingly rare mostly because the lone area where these stones were mined is now flooded and underwater.
Pietersite is a mixute of gold and blue Tiger's Eye alongside red Jasper.
Powerful protection stone, especially against the elements.
Calms nervous people and animals during storms.
Protects when driving in bad weather, and guards homes and businesses against storm damage.
Acts as a shield against the adverse effects of technology, particularly if you work long hours with a computer or live near a mobile phone mast.

 

May boost self-esteem when worn consistently.
Great for creative people who lack confidence in their abilities, and don't earn money from their talents.
Looking for larger Pietersite Tumbled Stones instead?
You can purchase bulk gemstone chips in multiple quantities. Choose the quantity that matches your needs from the drop-down box. Options include:
1/10 pound (46 grams)
1/4 pound (114 grams)
1/2 pound (227 grams)
3/4 pound (341 grams)
1 pound (453.5 grams)
Message us if you need a quantity different than what is available and we will do our best to accommodate you.