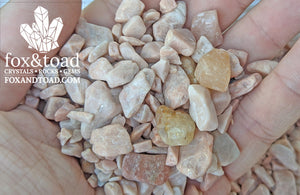 Moonstone, Peach Gemstone Chips
For intuition, balance, and wishes.
Helps harbor feminine side.
Linked with the crown, third eye, and heart chakras.
Calms and relieves stress while releasing love of all kinds.
Stone for "new beginnings".
Good for inner growth and strength.
Soothes emotional instability, stress, and stabilizes emotions, providing calmness.
Enhances intuition, promotes inspiration, success and good fortune in love and business matters.
Looking for larger Peach Moonstone Tumbled Stones instead?
You can purchase bulk gemstone chips in multiple quantities. Choose the quantity that matches your needs from the drop-down box. Options include:
1/4 pound (114 grams)
1/2 pound (227 grams)
3/4 pound (341 grams)
1 pound (453.5 grams)
Message us if you need a quantity different than what is available and we will do our best to accommodate you.