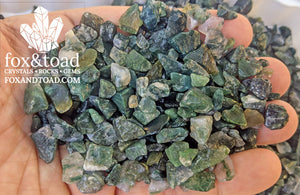 Agate, Moss Gemstone Chips
Despite popular belief, Moss Agate stones don't actually contain moss. Instead, these chalcedony-based stones display inclusions of green-colored minerals that give a grassy or mossy look. 
Most stones also feature milky-white backgrounds consisting of manganese or iron. The whitest of these stones often classifies as Tree Agate — whereas the most sought-after Moss Agate specimens sport a clear background that distinctly highlights the mossy patterns.

The tumbled stones featured in this listing all contain quartzing that's either clear or mildly opaque. For whiter background, check out our selection of Tree Agate tumbles.
Looking for larger Moss Agate Tumbled Stones instead?
You can purchase bulk gemstone chips in multiple quantities. Choose the quantity that matches your needs from the drop-down box. Options include:
1/4 pound (114 grams)
1/2 pound (227 grams)
3/4 pound (341 grams)
1 pound (453.5 grams)
Message us if you need a quantity different than what is available and we will do our best to accommodate you.