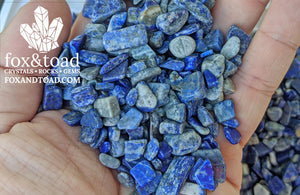 Lapis Gemstone Chips
Excellent stone for stimulating practical wisdom and good judgment.
Aids intellectual analysis, problem solving and creating new ideas.
A powerful crystal for activating the higher mind and enhancing intellectual ability.
Stimulates the desire for knowledge, truth and understanding, and aids the process of learning.
Excellent for enhancing memory.
Looking for larger Lapis Tumbled Stones instead?
You can purchase bulk gemstone chips in multiple quantities. Choose the quantity that matches your needs from the drop-down box. Options include:
1/10 pound (46 grams)
1/4 pound (114 grams)
1/2 pound (227 grams)
3/4 pound (341 grams)
1 pound (453.5 grams)
Message us if you need a quantity different than what is available and we will do our best to accommodate you.