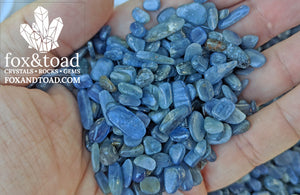 Kyanite Gemstone Chips
Excellent stone for meditation and attunement.

Aligns all chakras and subtle bodies instantly.

Provides balance of yin-yang energy and dispels blockages, moving energy gently through the physical body.

May have a calming effect on the whole being, bringing tranquility.
Looking for larger Blue Kyanite Tumbled Stones instead?
You can purchase bulk gemstone chips in multiple quantities. Choose the quantity that matches your needs from the drop-down box. Options include:
1/10 pound (46 grams)
1/4 pound (114 grams)
1/2 pound (227 grams)
3/4 pound (341 grams)
1 pound (453.5 grams)
Message us if you need a quantity different than what is available and we will do our best to accommodate you.