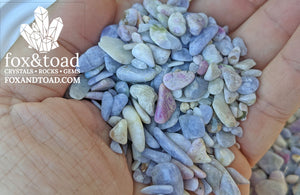 Hackmanite Gemstone Chips
Hackmanite is a sulfur-rich variety of sodalite which exhibits tenebrescence (the ability of minerals to change color when exposed to sunlight).
The stones in this listing also react tremendously to ultraviolet light (or black light) by glowing a bright, fiery orange color (seen in the photos).
Hackmanite appears pale to deep violet when first mined, but once exposed to sunlight, the color quickly fades to grayish or greenish-white. 
When placed back into a dark place, or when exposed to short wave ultraviolet light, the violet color slowly returns. 
You can see the color change within seconds of sunlight exposure, but the return of the original color can sometimes take up to a week. The tenebrescence effect can be repeated indefinitely, but is destroyed by heating.
Hackmanite can help grant one access to their crown chakra, while enhancing their mental capabilities. Hackmanite is said to lead users to the gateway of higher knowledge, provided by celestial beings and one's own spirit guides and guardian angels.
Looking for larger Hackmanite Tumbled Stones instead?
You can purchase bulk gemstone chips in multiple quantities. Choose the quantity that matches your needs from the drop-down box. Options include:
1/10 pound (46 grams)
1/4 pound (114 grams)
1/2 pound (227 grams)
3/4 pound (341 grams)
1 pound (453.5 grams)
Message us if you need a quantity different than what is available and we will do our best to accommodate you.