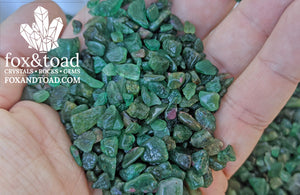 Emerald Gemstone Chips
Emerald is a gemstone and a variety of the mineral beryl. These stones get their striking green color from trace amounts of chromium and (rarely) vanadium.
Emeralds have remained one of the most desired gemstones throughout the world for more 5,000. Ancient civilizations throughout Africa, Asia, and South America independently discovered emeralds and made them a gemstone of highest esteem.
Today, Emerald combines with Ruby and Sapphire to form the "big three" of colored stones. In 2015, the value of emeralds imported into the U.S. exceeded the value of all other colored stones, outside of the "Big three" combined.
Emerald is regarded as the traditional birthstone for May as well as the traditional gemstone for the astrological sign of Cancer. The chief deity of one of India's most famous temples, the Meenakshi Amman Temple in Madurai, is the goddess Meenakshi, whose idol is traditionally thought to be made of emerald.
Looking for larger Emerald Tumbled Stones instead?
You can purchase bulk gemstone chips in multiple quantities. Choose the quantity that matches your needs from the drop-down box. Options include:
1/10 pound (46 grams)
1/4 pound (114 grams)
1/2 pound (227 grams)
3/4 pound (341 grams)
1 pound (453.5 grams)
Message us if you need a quantity different than what is available and we will do our best to accommodate you.