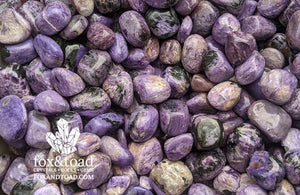 Charoite Tumbled Stones
Charoite
Spiritual stone teaching and guiding us on how to live in the "Now".
Stone of acceptance and insight.
Provides healing on all levels: physical, emotional and spiritual.
Can remove/transmute negativity and overcomes obsessive-compulsive behaviors.
Few stones feature natural purples as stunning as those found in Charoite.
Charoite is a rare silicate mineral that got its name from the Chara River, where it was first discovered in 1978. To date, Charoite has only been found in Aldan Shield, Sakha Republic, Siberia, Russia.
Charoite is translucent lavender to purple in color with a pearly luster. It's often compared to paintings completed by master Vincent Van Gough because of the streaks that resemble brush strokes.
Because of its intense color, and brilliant chatoyance, many assume that Charoite isn't natural. That's simply not the case. All of the stones featured in this listing are 100% genuine and come directly from the main source of the material in Russia.
All tumbled stones are priced and sold individually, unless otherwise noted.
Due to the unique qualities in each stone, sizes can vary from 0.75 inches to 1.75 inches per stone.