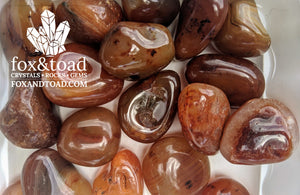 Carnelian Tumbled Stones
Carnelian 
Excellent aids for training, coordination of physical exercise programs, and for balancing body energy levels. Carnelians boost a listless attitude and can stimulate the appetite

Helps attract prosperity, new resources and good luck.

Can lend courage needed to help overcome difficulties.

Promotes idealism, a sense of community and pragmatism.
Carnelian is a semiprecious stone consisting of an orange or orange-red variety of chalcedony. The stone gets its colors due to impurities of iron oxide.
Carnelian was used as beads as early as the Early Neolithic in Bulgaria. Carnelian beads are described from the Varna Chalcolithic necropolis (middle of the 5th millennium BC). Carnelian was used widely during Roman times to make engraved gems for signet or seal rings for imprinting a seal with wax on correspondence or other important documents — as hot was does not stick to Carnelian.
All tumbled stones are priced and sold individually, unless otherwise noted.
Due to the unique qualities in each stone, sizes can vary from 0.75 inches to 1.75 inches per stone.