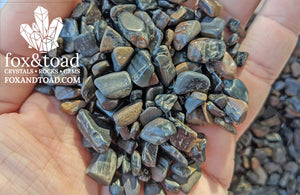 Tiger's Eye, Blue, Gemstone Chips
Blue Tiger's Eye 
Stone of abundance.
Helps heal earth energy. 
Great for when dissolving restrictive and/or negative thought patterns and behaviors.
Helps you to see the issue, bringing them into sharper focus, and then invigorates you to make the right changes and adhere to them.
Helps you to go back to source of emotional blockages, then helps resolve it for beer happiness. 
Looking for larger Blue Tiger's Eye Tumbled Stones instead?
You can purchase bulk gemstone chips in multiple quantities. Choose the quantity that matches your needs from the drop-down box. Options include:
1/4 pound (114 grams)
1/2 pound (227 grams)
3/4 pound (341 grams)
1 pound (453.5 grams)
Message us if you need a quantity different than what is available and we will do our best to accommodate you.