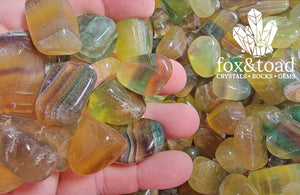 Fluorite, Argentina Tumbled Stones
Fluorite from Argentina is thought to resemble candy, with its stark, contrasting yellows, purples and greens. 
Argentine Fluorite tumbled stones are especially good looking because they tend to contain the entire spectrum of colors in one hand-held piece.
Fluorite is thought to be one of the most powerful healing stones, acting as a gateway for many crystal lovers into the metaphysical world. Known also as the Genius Stone, Fluorite is thought to enhance learning, studying abilities, concentration and retainment of new knowledge.
All tumbled stones are priced and sold individually, unless otherwise noted.
Due to the unique qualities in each stone, sizes can vary from 0.75 inches to 1.75 inches per stone.