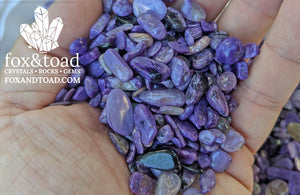 Charoite Gemstone Chips
Few stones feature natural purples as stunning as those found in Charoite.
Charoite is a rare silicate mineral that got its name from the Chara River, where it was first discovered in 1978. To date, Charoite has only been found in Aldan Shield, Sakha Republic, Siberia, Russia.
Charoite is translucent lavender to purple in color with a pearly luster. It's often compared to paintings completed by master Vincent Van Gough because of the streaks that resemble brush strokes.
Because of its intense color, and brilliant chatoyance, many assume that Charoite isn't natural. That's simply not the case. All of the stones featured in this listing are 100% genuine and come directly from the main source of the material in Russia.
Looking for larger Charoite Tumbled Stones instead?
You can purchase bulk gemstone chips in multiple quantities. Choose the quantity that matches your needs from the drop-down box. Options include:
1/10 pound (46 grams)
1/4 pound (114 grams)
1/2 pound (227 grams)
3/4 pound (341 grams)
1 pound (453.5 grams)
Message us if you need a quantity different than what is available and we will do our best to accommodate you.