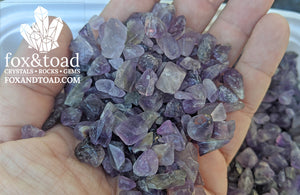 Amethyst Gemstone Chips
Amethyst is one of the most popular and collected gems in the world, thanks to its abundance in many areas of the globe — as well as its varying textures and colors based on location.
The gemstone chips in this listing consist of Brazilian Amethyst and have soothing and complete purples that encompass the entire stone.

Amethyst is a violet-colored variety of quartz. The color comes from impurities of iron and other transition metals within the quartz. This combination of minerals creates a complex mixture that results in stunning colors.

Depending on the mineral composition, Amethyst can range from light pinks to intense purples.

PLEASE NOTE: Amethyst will lose its color if left in direct sunlight too long. Do not place these stones — or any other amethyst specimens — in sunlight or you permanently damage the stone.
Looking for larger Amethyst Tumbled Stones instead?
You can purchase bulk gemstone chips in multiple quantities. Choose the quantity that matches your needs from the drop-down box. Options include:
1/4 pound (114 grams)
1/2 pound (227 grams)
3/4 pound (341 grams)
1 pound (453.5 grams)
Message us if you need a quantity different than what is available and we will do our best to accommodate you.